We Are Happy to Service All Carlynda Jewelers Clients
Blog
How to Find Her Ring Size: The Most Important Things to Do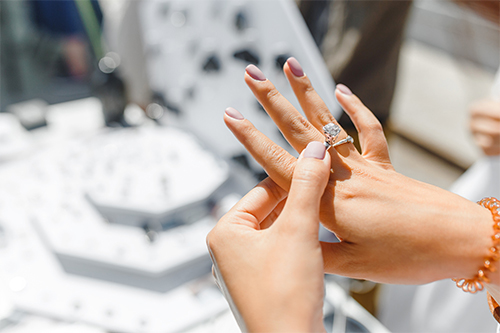 Are you hoping to surprise your girl with a marriage proposal? Nowadays only one-third of all marriage proposals in the US is a surprise.
Guessing her ring size is rather risky, but it may be the only way to keep her from suspecting what you have planned.
There are lots of things to keep in mind when shopping for a ring, especially if it's a diamond, but getting the size right can make the moment even better.
Are you planning a surprise for your significant other? Do you need to find out her ring size without her knowing? If yes, check out this guide on how to find her ring size.
How to Find Her Ring Size: A Guide
The average ring size for women is size 7, but you probably consider your significant other anything but average. Let's look at some easy ways to figure out your girlfriend's ring size without giving her a clue.
1. Ask Her Best Friend or Roommate
Your girl's best friend may know her ring size. Even if she doesn't, she can ask her in a nonchalant way in conversation.
She can also take her into a jewelry store while out shopping one day and have fun looking at rings. They can get professionally sized while trying on rings on their outing.
A roommate could take one of her rings to be sized at the jewelry store. It would be best if it's a ring she wears on her left ring finger, but getting close to her size might be good enough.
2. Put a String Around Her Finger
Is your girlfriend a heavy sleeper? Gently place a string around her finger. Remember not too tight. A ring should comfortably go over the knuckle.
Mark where the string meets and take it to the jeweler to determine the correct ring size.
3. Try One of Her Rings on Your Finger
Get a hold of one of her rings that she wears regularly, put it on your finger. Make a mark below where the ring sits. Go to a local jeweler and put a ring sizer where the line is on your finger. Voila! You now know her ring size.
4. Ask Her
You can ask her her ring size without spoiling the surprise. You can bring it up in a conversation subtly. You can ask her with the guise that you're going to buy a ring for your mom or niece, for example, provided they have similar hand size.
You can even purchase a ring that you are supposedly gifting (check the return policy before buying) and have her try it on to give you an idea if you got it right.
Surprise!
Now that you know how to find her ring size, you'll be able to plan your surprise. Wondering where to buy a beautiful, quality ring? Check out our amazing collection.
We are a full-service jewelry store. When you buy from us, we're here for you from advice to purchase to cleaning to sizing to repair.
---
‹ Back