We Are Happy to Service All Carlynda Jewelers Clients
Blog
Your Guide to Jewelry Care: How to Maintain Your Precious Pieces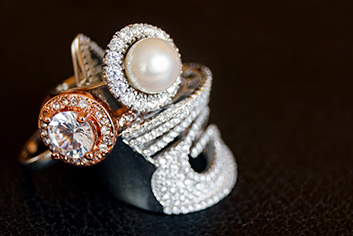 Have you recently acquired a new piece of fine jewelry? Lucky you!
You already know how beautiful your new bauble is, but you may not know the jewelry maintenance you'll need to undertake to keep your new piece shining.
Your new jewelry requires proper care and maintenance to retain its beauty and value. Not all jewelry cleaning styles are created equally, though.
Read on to learn more about jewelry care and how to ensure that your new piece stays as beautiful as it looks today.
Keep It Clean: Cleaning Your Jewelry
Keeping your jewelry clean is no small task. Whenever jewelry is worn, it's exposed to environmental pollutants that can steal its beauty.
Regardless of where you choose to wear your piece, you can expect dust and pollutants to begin to cloud your precious stones. Metals can be equally impacted by the environment.
If you want to ensure that your piece keeps its beauty, you'll need to clean your jewelry regularly with a solution appropriate for the kind of stones and metals present in your piece.
You can also help to keep your piece clean by limiting your jewelry's exposure to pollutants. This may mean taking off your jewelry before applying lotion or when using hairspray.
Selecting a Jewelry Cleaner
Not all jewelry cleaners are a good choice for your jewelry. Some harsh cleaners can even cause significant damage to materials like gemstones.
Stones like diamonds are especially likely to pick up oils and other contaminants throughout the day. Even traditional soap can cause build-up to occur on your fine jewelry.
Depending on the metal and stones that may be present in your piece, choose a high-quality jewelry cleaner, like Lavish, that's designed to keep your treasures clean without damaging them.
Get Regular Jeweler Inspections
Taking your fine jewelry for regular inspections can also be extremely helpful. You'll want to have your pieces inspected by a jeweler you trust.
Your jeweler can offer you great jewelry care advice and inform you of any potential damage he or she detects in your piece. Aside from cosmetic wear, it's also important to have a jeweler inspect your pieces for broken or worn out prongs. Over just a few years of wear, thinned-out shanks and loose stones can become more of a problem than you might expect.
Getting your jewelry inspected regularly is one of the best ways to avoid permanent damage like the loss of a stone. If you suspect that something is wrong, have a jeweler look at it right away. They'll perform repairs as they're able or recommend someone else who can fix your pieces.
Jewelry Care: Proper Maintenance
Maintaining your jewelry begins with proper storage. Jewelry pieces should all be stored separately to ensure that they don't knock or scratch one another. This will also help you to avoid the dreaded tangle of jewelry that can occur when it's stored improperly.
If your fine jewelry hasn't been receiving the attention it deserves, don't fret. It's easy to remove any minor scratches or discoloration that may be present.
To learn more about this, ask a jeweler you trust about polishing services. Having your jewelry polished is inexpensive and simple, and should be done on a regular basis.
Protecting Your Investment
Now that you know more about fine jewelry care, it's time to protect your investment! Proper care, inspections, and cleaning can help you to keep your fine jewelry looking new for decades to come.
Visit our website to learn more about fine jewelry, cleaning services, and care.
---
‹ Back